Screenshots and features
All 5 modules are highly flexible and powerful so they can be tailored for individual use. Joomla Users can get all 5 of these modules for the price of what just one extension usually costs! People who visit a Joomla website featuring Freestyle Support Portal will be able to quickly view and search FAQs; view and search knowledge base articles with detailed text and images, users can comment on articles and rate them for usefulness; if they cannot find the information they are looking for they can simply open a new support ticket which can be specifically tailored to include unlimited products, categories and departments; users can submit customer testimonials which can be moderated and they can keep up to date with announcements.
All this can take place within ONE Joomla extension! Don't waste time downloading and installing individual extensions; Freestyle Support Portal can do all these in one!
Demo Sites – Documentation/Support - Forum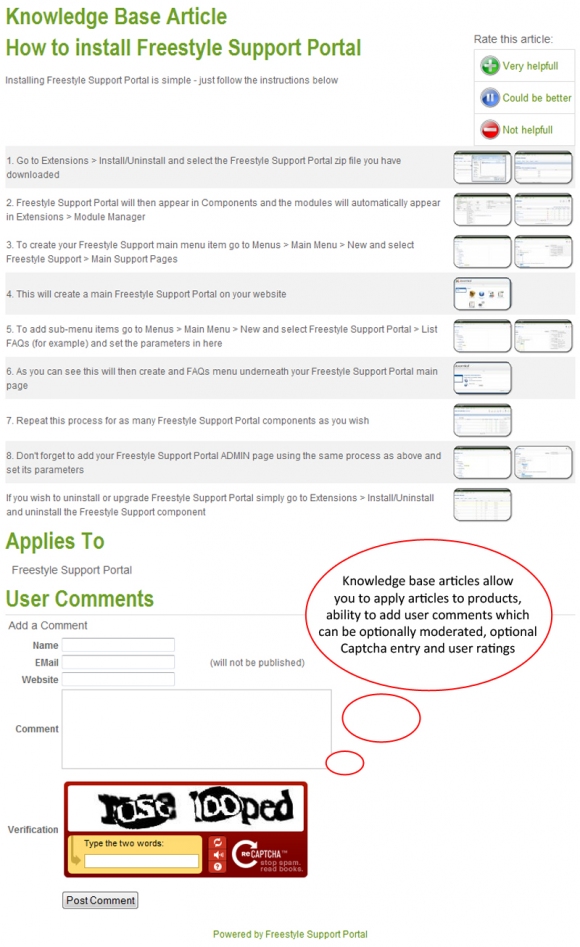 Stand-Out Features
Freestyle Joomla are highly responsive and encourage user feedback for future development
Excellent demo sites with examples of how to use Freestyle Support Portal is you have a small, medium or large website
The ticket support system is highly advanced and flexible – customise all fields, products, categories, departments, priority levels, email templates, forwarding and replying options, handler and ownership settings
The FAQs section can be completely customised visually with various viewing styles, hide/show options and search options
The knowledge base modules allows you to display detailed articles in a logical order, easily searchable, comments with optional moderation, Captcha entry, various viewing styles, hide/show options and search options
The testimonials section allows users to add testimonials with optional moderation and Captcha entry
The announcements module enables users to keep up to date with recent news items and announcements