This tutorial will show you how to send blog or web site updates to your email subscribers, using Aweber.com.
I will show you how to set up Aweber.com to work with Joomla. This will also work with content from K2 and other components that show an RSS feed.
Aweber.com is the online email list service that I use. The procedure I describe may also be applied to other mailing list services like MailChimp etc.
What's Aweber and why use it?
As previously mentioned, Aweber.com is an online email list service with a lot of useful features. You can set up a mailing list and have people subscribe to it through forms on your web site or blog. You can send individual emails. You may also send follow-up emails set to be emailed automatically on X number of days after subscription is started.
Finally, you can email an update of X number of posts from your blog. This is called a 'blog broadcast'. The content for the blog broadcast emails is found by Aweber using your blog RSS feed. But first you need to set up your blog broadcast correctly. This is what I'm going to show you in this tutorial.
I have previously written about why I won't use a Joomla newsletter component. I got some reactions after publishing that post. Mostly positive, some more critical. I know that it's not right for everyone to use an external service. That's why I worded the title the way I did :)
I like Aweber.com a lot. They continue to add great features all the time. The latest one shows a custom thank-you video based on the type of email you use.
Using the RSS feed to send emails
It's possible to use the built-in RSS feed in Joomla. However, for best result you will have to use Feedburner. Please read my tip on how to set up Feedburner RSS with Joomla to learn how to do this.
The RSS feed can contain what ever you want. You might want to show the latest articles from the front page. Or you want to show a certain section or category from your site. Or, you have K2 by Joomlaworks set up and want to show the latest content from that component.
Using either of these, the goal is to send email about updated content to your subscribers.
The procedure is as follows:
Create a Feedburner account
Burn a Feedburner RSS feed
Create a 'blog broadcast' in Aweber
Lean back and see the emails go out at the intervals of your choice.
1. Create a Feedburner Account. Go to http://feedburner.google.com/ and sign up for free. If you have a Google account already you just have to add this service to your account. Follow the instructions - it's easy to get started.
2. Burn a Feedburner RSS feed. To set up an RSS feed, use the dialog that looks like this in your Feedburner account:
Enter the RSS feed provided by Joomla (or the component you want to display information from).
3. Sign up for an account at Aweber.com. You will need an account on Aweber.com (or another service) to be able to set up an email list. If you register at Aweber, they have a great wizard which will take you through the whole setup process in easy-to-understand steps.
4. Create a 'blog broadcast' in Aweber. When you are done setting up the Aweber account, you need to set up a blog broadcast. This is done by going to ''Messages' -> 'Blog Broadcast' in your account menu.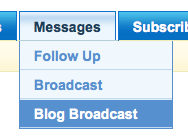 Enter the RSS feed URL
First, you need to enter your blog RSS or XML feed, so that Aweber can find your content:

Set up the email body
Now, you can start working on the actual email. You can choose a template or use your own. Using the 'personalize' feature, you can enter codes to dynamically enter values from the subscriber database or from your content.
Choose a Send Time and Other Publish Settings
Now you need to decide when and how often the blog broadcast will be sent:
I have set up my feed to send automatically each Thursday at 8:30 AM. You might want to uncheck the setting for 'Send Automatically'. This will give you more control if you are not completely confident with sending the email without further notice, I had this setting unchecked the first couple of weeks. If you decide to do the same, you will have to queue the email manually.
When you are done setting up the publish settings you can click on save and Aweber will check your setup. If it's OK, the blog broadcast will be saved. Otherwise, you will be asked to adjust certain settings and save again.
Automatic email updates saves time
If the blog broadcast has been set up to send automatically, you don't need to think about sending updates to your subscribers. Aweber will do this for you. I find this time-saving and it also ensures that my subscribers get the update at the same time each week. All I have to do is to make sure the feed contains new blog posts every week.
I hope this tutorial was helpful and that you will have success using Aweber and Joomla together.