I see that many people look for information on how to upgrade sh404SEF. This Joomla extension is a component, which means it's like an application inside your Joomla site.
Most Joomla components have their own tables in the Joomla site database. This is where the settings and data that the component uses are stored. These tables are (normally) not deleted when you uninstall the component. In the case of sh404SEF they are not deleted when you uninstall. At least that is how the component is set up by default.
When you have decided to upgrade sh404SEF you should check your 'upgrade configuration'.
You can decide whether to have sh404SEF delete the tables or other settings by adjusting the 'Upgrade configuration' in the sh404SEF configuration (the Advanced tab).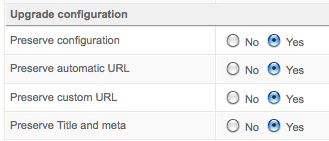 With the settings shown here you will retain all of your settings and URLs when uninstalling an old version and installing a new one.
When you have set the configuration to your liking, follow the normal procedure to uninstall sh404SEF and install the new version. You will be up and running in a matter of minutes.
As a user of sh404SEF you should also read my popular tutorial on how to set up sh404SEF.